Mission Statement:
The mission of the Eye Center of Texas (ECT) residency program is to provide qualified postdoctoral optometry graduates with advanced competency in all areas of ocular disease and co-management of ocular surgery. Patient care, didactic education, and scholarship promote the development of this knowledge and skill. Residents who complete the program are expected to provide an advanced level of clinical care in ocular disease and co-management of ocular surgery.
Curriculum:
The residency program curriculum is heavily centered around direct patient care. The resident's involvement in patient care is sufficient to enable the mission, goals and objectives of the program to be accomplished. The residents will also be involved in informal didactic activities, teaching fourth year optometry externs, and scholarly activities.
This is a 13 month residency program. The resident will spend a minimum of 40 hours each week in the clinic with additional hours "on call". Each resident is given two hours per week for research and developmental time during clinic hours.
Residents will spend three-fourths of their time seeing patients in our Bellaire and Pasadena clinic, and one-fourth of their time at our satellite clinics (Clearlake, Sugarland, Conroe, and Katy).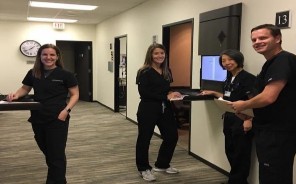 Clinical Rotations:
Retina Clinic:
Residents will spend approximately twenty percent of their residency working with our retinal specialist. They will be assisting her in the preoperative and postoperative care of patients, the diagnosis and treatment of new patients, and follow up medical retina patients. This includes but is not limited to: Dry and Wet AMD, Diabetic Retinopathy, Retinal Tears/Detachments, Pathological Myopia, Chronic Macular Edema, Postoperative Scleral Buckles, Pars Plana Vitrectomy, Pneumatic Retinopexy, and Membrane Peels.
Refractive Surgery Clinic:
Residents will spend approximately twenty percent of their residency in direct patient care with preoperative and postoperative LASIK, PRK, Clearlensectomy, and Implantable Contact Lens patients. Residents will perform preoperative evaluations of these patients to assess if patients are candidates for refractive surgery. They will also be heavily involved in the postoperative care. On surgery days, residents will assist the surgeons.
Glaucoma Clinic:
Residents will spend approximately twenty percent of their residency in the medical management of glaucoma patients. They will be heavily involved in the postoperative care of patients who have undergone a trabeculectomy, selective laser trabeculoplasties, MIGs, tube shunts, peripheral iridotomy, and iridoplasty.
Anterior Segment/Cornea Clinic:
Residents will spend approximately twenty percent of their residency seeing patients with various anterior segment disease. This includes but is not limited to: Penetrating Keratoplasty, DSAEKs, Pterygium excision, Tarsorraphy, Chalazion excisions, Epithelial Peels, Oculoplastics, etc. Residents will also be heavily involved in the diagnosis and treatment of red eyes, dry eye syndrome, corneal ulcers, and other various anterior segment conditions.
Cataract Clinic:
Residents will spend approximately twenty percent of their residency seeing preoperative and postoperative cataract surgical patients. They will be heavily involved with one day post-operative visits and will see various surgical complications throughout their residency. They will learn about various types of intraocular lenses, and which lenses best suite patient's needs.
Emergency On-Call Service:
Each resident in the clinic rotates call on a weekly basis. They must be available for emergency services on a twenty four hour basis. Residents are issued a cell phone so that they may be contacted at any time. Attending optometrists and ophthalmologists are available to residents at all times for additional consultation as needed.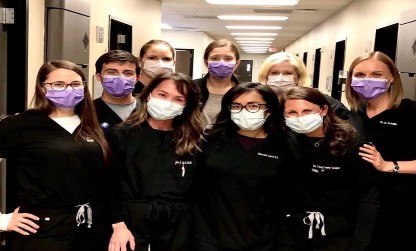 Didactic Program:
The didactic curriculum consists of attendance at the following programs throughout the thirteen months
Resident Presentations at UAB yearly:
Each resident will travel to UAB in the spring for a case presentation.
Eye Center of Texas Seminars
Twice a month one attending, optometrist or ophthalmologist will conduct a seminar with the residents on various topics. It will be an informal gathering to discuss ocular disease and surgery, journal articles and to critique patient case reviews.
Eye Center of Texas Continuing Education Courses:
Six times a year Eye Center of Texas doctors put on continuing education courses for local optometrists on various topics. Residents are required to attend each meeting and will present at one of them in the spring.
Harris County Optometric Society (HCOS) Meetings and Continuing Education:
Residents are required to attend monthly HCOS meetings. At these meetings, two hours of continuing education are given on a wide range of topics from nationally recognized speakers.
Residents will be required to write a paper of publishable quality by May 1st of their residency.
Teaching:
Residents are in part responsible for overseeing some aspects of the UIW Rosenberg School of Optometry Externship students
Each resident will give six seminars to the externs during their residency
Residents work with the Rosenberg externs in overseeing some patient encounters.
Professional Meetings:
Each resident is given a $500 stipend to attend professional or scientific meetings. Residents are strongly encouraged each year to attend these meetings. Residents are required to present a paper/poster at a recognized meeting or write a second paper of publishable quality during their residency.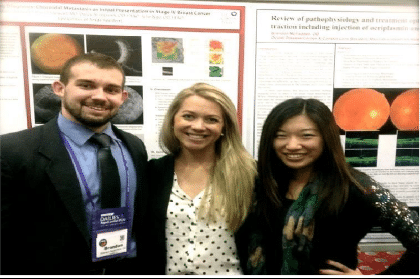 Clinical Facilities and Equipment
Eye Center currently has six offices in the greater Houston area. They are staffed by 120 employees, six ophthalmologists, eight optometrists, and four optometry residents. Each office is fully equipped. Our residents mainly work out of our Bellaire and Pasadena office. Both offices and similar. The Bellaire office includes:
20 fully equipped exam lanes
Equipment includes: Two Humphrey visual field analyzers, Spectralis OCT, Digital B-Scan, IOL master A-scan, Immersion A-scan, Wavescan analyzer, Six Autorefractors , Fundus Camera, Pachymeter, PAM/BAT, Autoclave, Surgical instruments, VISX Laser, Surgical Suite for phacos and Implantable Contact Lens Surgeries, Surgical Suite for minor surgeries, YAG laser, Argon Laser, SLT laser, Pentacam, Atlas Topographer, Anterior Segment Camera, California Optos, Pneumatic Retinopexy, Indirect Cryo, Corneal Crosslinking, Specular Microscopy, UBN (ultrasound biomicroscope).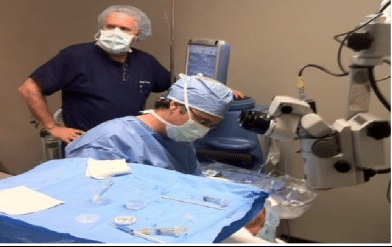 Benefits:
Salary: $41,708 for 13 months
Medical Insurance
Professional Liability Insurance
Disability and Life Insurance
State License Renewal Paid
Residents receive 5 days of paid time off vacation, 3 days of paid time off for continuing education, and 2 days paid time off for interviewing.
8 days of paid time off holidays
$500 stipend for continuing education
$200 monthly for travel expenses
LASIK/PRK at no cost
Admissions Eligibility Criteria:
Candidates must receive a doctor of Optometry degree from an ACOE-accredited institution prior to the starting date of the residency program.
Candidates must have passed Parts I,II, III and TMOD of the National Board of Examiners in Optometry (NBEO) examinations.
Candidates must be eligible for licensure as an optometrist in Texas and pass the Texas Optometry Law Exam.
Requirements:
The coordinator must receive the following in order to be considered for a residency position:
Curriculum vitae
Official transcripts of NBEO scores
Official transcripts of optometric education
Two letters of recommendation
Brief statement regarding desire to complete this residency program.
All of these requirements are submitted through ORMatch. Candidates are matched through ORMatch
For more information please contact:
Amanda Bachman O.D. or Jill Autry O.D
6565 West Loop South Suite 650
Bellaire, TX 77401
Phone: (713) 797-1010
Fax: (713) 357-7279
[email protected]
[email protected]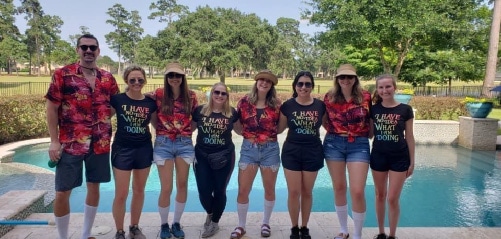 We also have fun! Resident Olympics 2021!