Houston Area LASIK Procedure Overview
Experience You Can Trust
Celebrating Over 70,000 Successful LASIK Vision Collection procedures.
Your decision on where to go for LASIK vision correction should not be made lightly because not all LASIK procedures are the same. The center you choose should offer world-class eye surgeons and state-of-the-art technology. At the Eye Center of Texas our surgeons, Dr. Mark L. Mayo and Dr. Edward C. Wade have years of experience and offer the safest, most advanced surgical techniques and technology that allows us to personalize a procedure that will be just right for your eyes.
Payment & Financing Options
We are dedicated to making LASIK surgery and other vision correction procedures affordable to everyone. We'll provide complete financing information during your evaluation and will help you select the plan that best meets your needs. Read more about our payment and financing options or apply online now.
Video: LASIK Surgery with Dr. Edward C. Wade
Video: LASIK Surgery with Dr. Mark L. Mayo
Offering The World's Most Advanced Laser Vision Correction Technology
The LASIK procedure is truly customized for you…based on your individual vision profile.  Because of the LASIK technology, many safety-minded organizations, including NASA and the U.S. military have approved LASIK for Astronauts and pilots. Using the LASIK platform, our surgeons create the corneal flap using the IntraLase Method (100% bladeless) and, in a matter of seconds, rotate the patient under the Advanced CustomVue laser to correct their vision.
STEP 1 – Creating Your Personal Vision Profile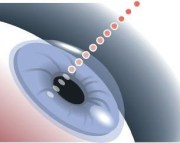 The first step in the LASIK procedure is to perform a series of tests to determine the individual characteristics of your vision, including the use of our WaveScan technology. The WaveScan system creates a 3-D map of the unique imperfections of your eyes. Then our Advanced CustomVue process uses the digital information from that map to design a custom treatment for each of your eyes.
STEP 2 – Making the LASIK Flap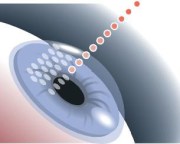 As described previously, the LASIK procedure exclusively uses an advanced technology called the IntraLase Method, which is a 100% blade-free approach to creating your corneal flap. The IntraLase Method also delivers outstanding visual results – more patients achieve 20/20 vision or better when the IntraLase Method is used.
STEP 3 – Your Laser Vision Correction
Now that you've had your personal vision profile using WaveScan technology and your blade-free corneal flap using the exclusive IntraLase Method, your vision can be corrected using the Advanced CustomVue treatment within the LASIK procedure. With the Advanced CustomVue treatment, it is possible to correct all types of refractive errors, including mild-to-severe nearsightedness, farsightedness and all types of astigmatism. It can improve the overall quality of vision by correcting higher-order aberrations (vision problems not correctable by glasses or contact lenses). This translates into better vision for driving at night, and lack of glare and haloes.