The best place for LASIK in Houston
By now, most people know about LASIK in Houston because of its high success rate in treating vision problems such as myopia (nearsightedness), hyperopia (farsightedness), and astigmatism. But not everyone understands how LASIK vision correction works, who is a good candidate, the recovery time, and why it can make such a big improvement to your vision. That's likely why you're researching vision correction procedures now!
Educating yourself about LASIK vision correction can help you find the best place for LASIK in Houston for the procedure. It can also help answer preliminary LASIK questions, allowing you to spend less time in the doctor's office and more time living your life.
How is the LASIK procedure done?
LASIK eye surgery is a medical procedure during which an eye surgeon fixes the imperfections in your cornea that leads to vision problems including mild-to-severe nearsightedness, farsightedness, and astigmatism. While surgeries like this one once required the use of a blade, technology has advanced so that modern refractive surgery, such as LASIK, uses a more accurate, more customizable, and less invasive laser treatment.
When you schedule a LASIK appointment at Eye Center of Texas, there are typically 3 easy steps to life-changing vision improvements.
Step 1 – Vision profile creation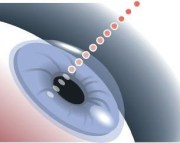 The first thing your Houston LASIK eye surgeon will do is perform a series of tests to determine the characteristics of your vision. A digital 3D map of your eye will be made used to design a custom treatment for each of your eyes.
Step 2 – The corneal flap and LASIK treatment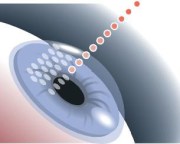 Next, your ophthalmologist creates a corneal flap using a 100% blade-free method. Once the flap is created, your eye surgeon will use a cool, ultraviolet light beam (the laser) to reshape the imperfections in your cornea.
Step 3 – LASIK recovery
Most people can return home (via a designated driver) a few hours after their LASIK vision correction procedure is completed. Little to no pain can be expected after LASIK, and recovery time is minimal, typically lasting just a few days.
Why choose Eye Center of Texas for your LASIK vision correction?
When it comes to who you trust with one of your eyesight, who you choose matters. Not all LASIK surgeons, procedures, and financing options are made equal and finding a practice with world-class doctors that cater to each individual's needs is essential to having a positive LASIK vision correction experience.
Fortunately, for our patients, we offer it all. The Eye Center of Texas is one of the best places for LASIK in Houston. Here's what makes us different.
Our world-class LASIK surgeons
Our eye surgeons are some of the top LASIK surgeons in Houston. Our speciality doctors Dr. Mark L. Mayo, otherwise known as the "eye doctor's doctor", the esteemed Dr. Yasir Ahmed, and respected ophthalmologist in Houston Dr. Edward C. Wade have completed over 75,000 successful LASIK procedures for patients.
Dr. Mayo and Dr. Wade were two of the first eye surgeons in Houston to practice blade-free eye surgery. Since then, they have continued to be pioneers in their fields and are recommended by over 300 Houston-area eye doctors.
Let's meet the doctors!
Our satisfied LASIK patients
Your journey towards better vision is what inspires us. No matter what eye treatment you need, the staff at The Eye Center of Texas is here to provide a professional and personalized experience. Hear what some of our patients have to say:
"Just a totally awesome medical and customer service experience. From the first contact to the post operative follow-up just a very professional, courteous, efficient, caring, and fully briefed surgical experience.
I do highly recommend Dr. Wade and his excellent staff to anyone considering addressing their sight issues through a surgical procedure."
Brian
"The staff and personnel are very polite, professional and organized. The wait time is very reasonable. Dr. Wade is a very professional doctor. As well as his female doctor assistant. She was able to explain to me in lay mans term, very easy for me to understand what is going on with my problem. Very highly recommend facility. Keep up the good work, Eye Center of Texas."
Ramil G.
"I am an optometrist who works at completely independent of this clinic primary eye care practice. I must say that Eye Center of Texas doctors, technicians and especially Dr. Wade himself are some of the most caring, attentive, and skilled providers I have ever met and had hoped to have as my care team."
Ausra S.
Our payment & financing options for LASIK
How much is LASIK in Houston? At the Eye Center of Texas, we are dedicated to making LASIK eye surgery and other vision correction procedures affordable for everyone. We'll provide straightforward information about our payment and financing options during your evaluation. The cost for your procedure will depend on the procedure itself, pre and post operative care, and follow-up appointments.
We accept cash/money orders/cashier checks, most major credit cards, and flexible spending accounts (FSA) as payment or if you'd rather pay overtime, we work with Care Credit to offer financing plans starting at 0% APR.
Continue reading: Cost of LASIK in Houston
Ready to achieve the visual freedom that LASIK in Houston provides? Call Eye Center of Texas!
Even though LASIK vision correction is a popular and widely-recognized safe vision correction procedure, choosing to receive LASIK is still a big decision. Eye Center of Texas is here to help you turn that decision into results with as little stress as possible.
Contact us today at 713-395-1515 or request an appointment online for a LASIK consultation to get one step closer to clearer vision.
Other Treatments at The Eye Center of Texas:
Who is a good candidate for LASIK?

Most individuals looking to improve their vision can benefit from LASIK eye surgery. However, there are a few requirements for LASIK. A good candidate must be over the age of 18 and free of autoimmune diseases, diabetes, dry eyes, or a thin cornea.
How many years does LASIK last?

The effects of LASIK are permanent however your prescription may naturally change overtime as the anatomy of your eye changes with age.
What is the LASIK success rate? Is LASIK safe?

The vast majority of LASIK vision correction patients achieve 20/20 vision or better. A successful LASIK eye surgery translates into better vision for driving at night and an easier time reading both analog and digital materials. LASIK is one of the safest procedures you can have done on your eyes with a complication rate of less than 1%.
How do I prepare for LASIK?

Before your procedure, you'll be asked to avoid wearing contacts for at least 5 to 7 days or 10 to 14 days for those with astigmatism. This will help your eye surgeon get the most accurate measurement of your cornea before you receive LASIK. You'll also want to avoid wearing make up or scented products on the day of your procedure.

Continue reading about preparing for LASIK
How long does it take to recover from LASIK?

The full

LASIK recovery time

is 3 to 6 months. However, the blurry vision you experience immediately after the procedure will improve within the next 24 hours and you'll be back to normal activity within a couple of days.
Can you wear contact lenses after LASIK?

Although you won't need to wear any type of corrective lenses including glasses or contacts post-procedure, you do have the ability to wear contact lenses if you need to.

Continue reading about wearing contacts after LASIK
Are there alternatives to LASIK?

If you aren't a good candidate for LASIK, there are other vision correction procedures such as EVO Visian ICL and PRK that may be a better option for you. Both PRK and EVO Visian ICL vs LASIK are a safer alternative for individuals with dry eyes or a thin cornea. However, EVO Visian ICL is only available for those with nearsightedness or nearsightedness with astigmatism.

At your initial appointment with Eye Center of Texas, we will review your unique circumstances and help you choose the best refractive surgery for you.
Financing Options Available
Apply today to find a financing option that meets your needs.