February is Age-related Macular Degeneration (AMD) Awareness Month
Macular degeneration is a progressive eye condition affecting as many as 15 million Americans and millions more around the world. The disease attacks the macula of the eye, where our sharpest central vision occurs. Although it rarely results in complete blindness, it robs the individual of all but the outermost, peripheral vision, leaving only dim images or black holes at the center of vision.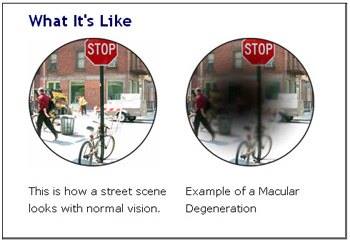 AMD is the leading cause of severe vision loss in adults over the age 50. Although anyone can get AMD, caucasians are at higher risk than other races and women tend to develop AMD at an earlier age than men. There are several other risk factors for the onset of Age-related Macular Degeneration:
Smoking
Obesity
High blood pressure
High cholesterol
In the early stages, AMD doesn't have any symptoms. However, there are complications that a patient should be aware of that become noticeable as the condition progresses. These include:
Straight lines begin to appear out of shape
Dark or white blurry areas appear in the center of vision
Change or decline color perception
With no cure for Age-related Macular Degeneration, the best defense against the eye disease is early detection. As always, it is important for eye care patients to get annual comprehensive eye exams.
Financing Options Available
Apply today to find a financing option that meets your needs.